Every year I wish I did more spiritually. Sometimes it can be incredibly hard, especially with a skeptic atheist in the house. While I love my husband dearly, there are times he makes me feel, well, embarrassed about my spirituality. I know he doesn't mean to do it on purpose, but I feel awkward practicing magic around him. It is part of the reason there isn't currently an altar in our home. I need to move past this awkwardness and embarrassment this year. In all other things I am very confident, never allowing the thoughts of others to dictate my behavior. So my main goal spiritually for 2016 is to move past my fears and grow. I've broken this down into several different manageable goals that I believe will help me overcome some of the feelings I still harbor. I swear, after almost 6 years with the man you'd think I'd be over it, not to mention I have been practicing for 11 years!
To achieve this overarching goal there are a couple of things I would like to work on.
- Read and Review a Pagan Book (hopefully 3)
- Create and Compile Grimoire and BOS
- Set up Altar
- Learn Tarot
- Cast Runes Once a Week
- Build Blog
After identifying six ways to meet my goal of spiritual growth I began breaking down some of the large goals in to manageable chunks using my My Goals app from the GooglePlay store. Reading one pagan book and reviewing it and casting runes once a week are pretty straight forward. However, there are several steps and actions I need to take to accomplish the others.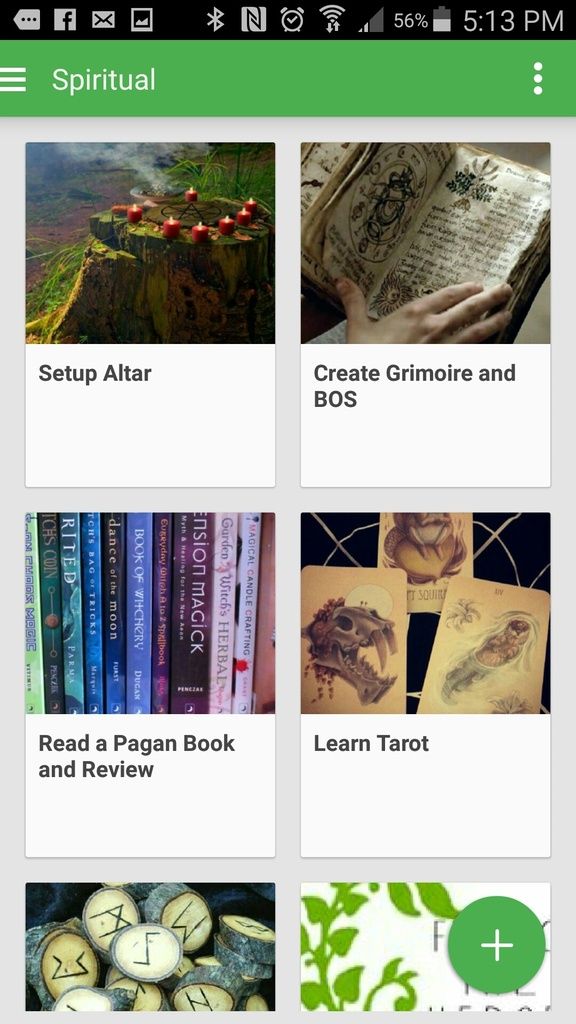 Create and Compile Grimoire and BOS
I want to work on compiling a hard copy of my Grimoire and start a Book of Shadows. I used to keep a BOS, but over the years it has collected dust and honestly, I don't even know where it is since we moved. To achieve this goal, I broke it up into chunks.
1. Find and purchase journal for BOS
2. Create or purchase Grimoire binding. I want
to be able to remove pages and rearrange
things.
3. Setup Grimoire sections
4. Add at least 20 pages to Grimoire
5. Participate in the 2016
Grimoire Challenge
. I
won't be able to do it everyday so I plan to
knock it out on the weekends.
Set up Altar
This is something I have never done because I don't believe in any deities. However, I think it is a beautiful way to honor the Earth and the Wheel of the Year while bringing magical energies into the home.
1. Find altar table
2. Find altar location
3. Decorate altar
This is pretty simple, but it has steps none the less. Plus it makes you feel awesome to check off easy things!
Learn Tarot
I have always wanted to learn tarot but have never gotten around to it. I find it fascinating.
1. Research tarot decks
2. Learning meaning of tarot
3. Purchase tarot deck
4. Practice reading tarot cards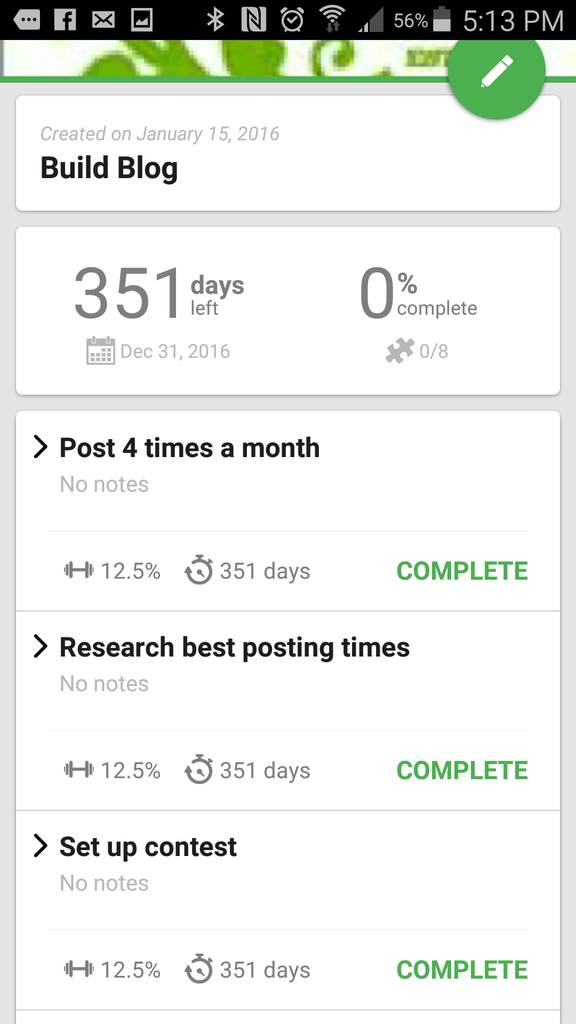 Build Blog
I want to work on building my blog and expanding my audience not only to benefit you, my readers, but to help continue my learning and understanding through teaching.
1. Post 4x a month (set up goal in GoalTracker
App)
2. Research best posting times
3. Set up contest
4. Post 6
witchy tips
5. Obtain reader feedback
6. Create watermark
7. Review 1 pagan book
8. Review 2 pagan items (hopefully I'll be able
to sign up for Sabbat box)
With everything still pretty crazy in my life, I know completing these tasks may be difficult, but I believe I've made each manageable and achievable. I also believe all of these will help me break free of the awkwardness I often feel performing magic and discussing it with others.
What spiritual goals have you set for 2016?