I am slightly behind on this because of how busy I have been. The final week of 2015, my parents came over every day to help me install our new laminate hardwoods. It took 6 days, giving me one day of rest before heading back to work. They look amazing and when I manage to get the house back together, I'll be posting some pictures. Yes, I am embarrassed about how my house looks right now.
Marietta over at
Witchy Words
always has these beautiful posts about her yearly goals. Honestly, she puts way more effort into setting her goals that I ever have in my life. Inspired by her recent posts, I decided to put slightly more effort into my yearly goal planning. I like how she divides her goals into categories, so I used the same groups as her: Career, Financial, Health, Mind, Home, and Spiritual. I left the personal section out for a couple of reasons. First, all my goals are pretty personal, especially the health goals. Second, there wasn't anything extra I wished to accomplish this year that did not fit into one of the other categories. You may also notice I didn't include a relationship section. My only goal is to continue strengthening my marriage and that takes two. I don't see a point of writing out specific goals when half of them depend on another person.
I started off my listing each category and jotting down a couple ideas of things I would like to do. Next, I downloaded two different apps from Google Play to help me track and break my goals up into manageable steps.
My Goals
allows you to set goals in the categories you choose, assign a picture, and then break the goal up into pieces. It also allows you to set a deadline for each goal or pieces of the goal. This was extremely helpful with setting my Career goals since I can't take my sweet time looking for a new job.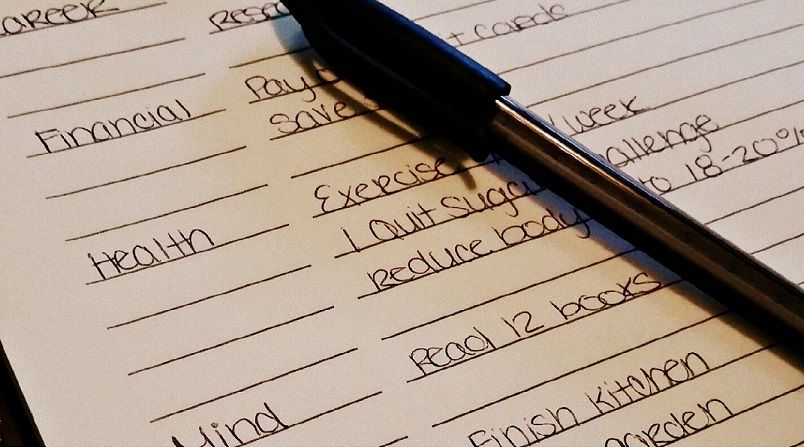 The second app I downloaded is called
GoalTracker
. I got this one specifically to track the days that I workout. Basically it allows me to say "Yes, I worked out" or "No, I did not workout." My Goals did not allow daily tracking. Any goals you need to track daily can easily be set up in GoalTracker.
In my upcoming posts, I'll break down my goals for the year into greater detail to avoid this post being an encyclopedia. Keep an eye out for them later this weekend! I'll also try to check in every 3 months with my progress.